Raedia and Ian's Vermont Eco Home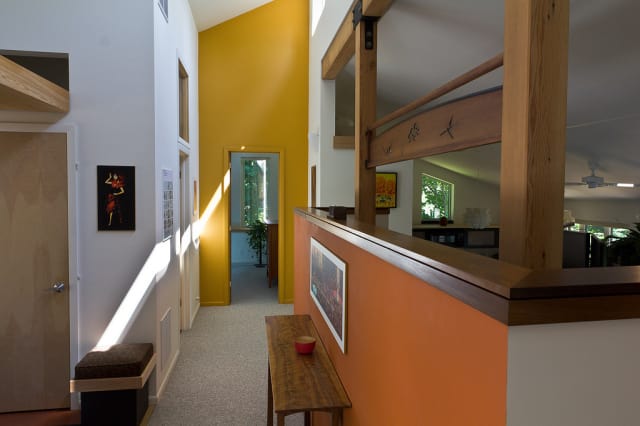 Back in 2007 Raedia and Ian were just starting out building their eco home in Vermont, and we blogged about their journey to get construction off the ground. Well, after a long process (and taking a little time off to get married), the house is finally done and decorated! Read more about the long list of green features below the jump:
Raedia says:
We moved into the house not long after the first tour, working from home during the day and working on our home the rest of the time. We painted the walls and trim with low-VOC paints, with lots of help from Ian's parents, and spent our weekends at the woodworking shop, building cabinets and furniture with his dad. All of the kitchen and bathroom cabinetry is custom-made by us, with Marmoleum tops (linseed-based recyclable material), and repurposed drawers from the shop. The drawer fronts are Valchromat, a recyclable material superior to typical MDF, made of waste wood fibers and low-formaldehyde binder.
We used Marmoleum in lots of places, since it's so eco-friendly, colorful and inexpensive (we purchased ours as remnants from local flooring companies). Besides the bathroom and hallway floors, we also used it as countertops and the office desk. And finally we took all the offcuts from those projects and made our "patchwork" kitchen floor.
Our geothermal heating system has been working remarkably well, keeping the house cool in the summer and toasty in the frigid Vermont winters, for very low cost. We have also discovered that one of our favorite things about the house is the location - being right in the center of a small town close to shops and restaurants, we hardly ever use our car. Finishing our own house as a family project has been a lot of work, but it's also been a great experience - and it's amazing to know we made it all ourselves.
You can read more about Raedia and Ian's building project here, and view even more photos at their Flickr page.
Thanks, Raedia and Ian!